Stark portabel DAC och hörlursförstärkare
Lägg i varukorgen
Lagervara (1 st. i lager)

(Skickas vanligtvis inom 1 arbetsdag)
Fri frakt vid köp över 300 kr!
iFi Audio iDSD Diablo
Devilishly brilliant
The iDSD Diablo, with its sleek new design and fiery red finish, sits proudly at the top of iFi Audios range of portable/transportable DAC/amps. It is built for purists – the true headphone enthusiasts who crave pure, unadulterated sonic performance.
Just like a racing car designed for uncompromising speed, the iDSD Diablo sets aside sonic tailoring as well as Bluetooth connectivity to focus on pure sonic power. Prepare for a riveting ride as it will drive any headphone on the planet with aplomb.
Put simply, the iDSD Diablo is iFi's best ever transportable amplifier designed to deliver reference level sound.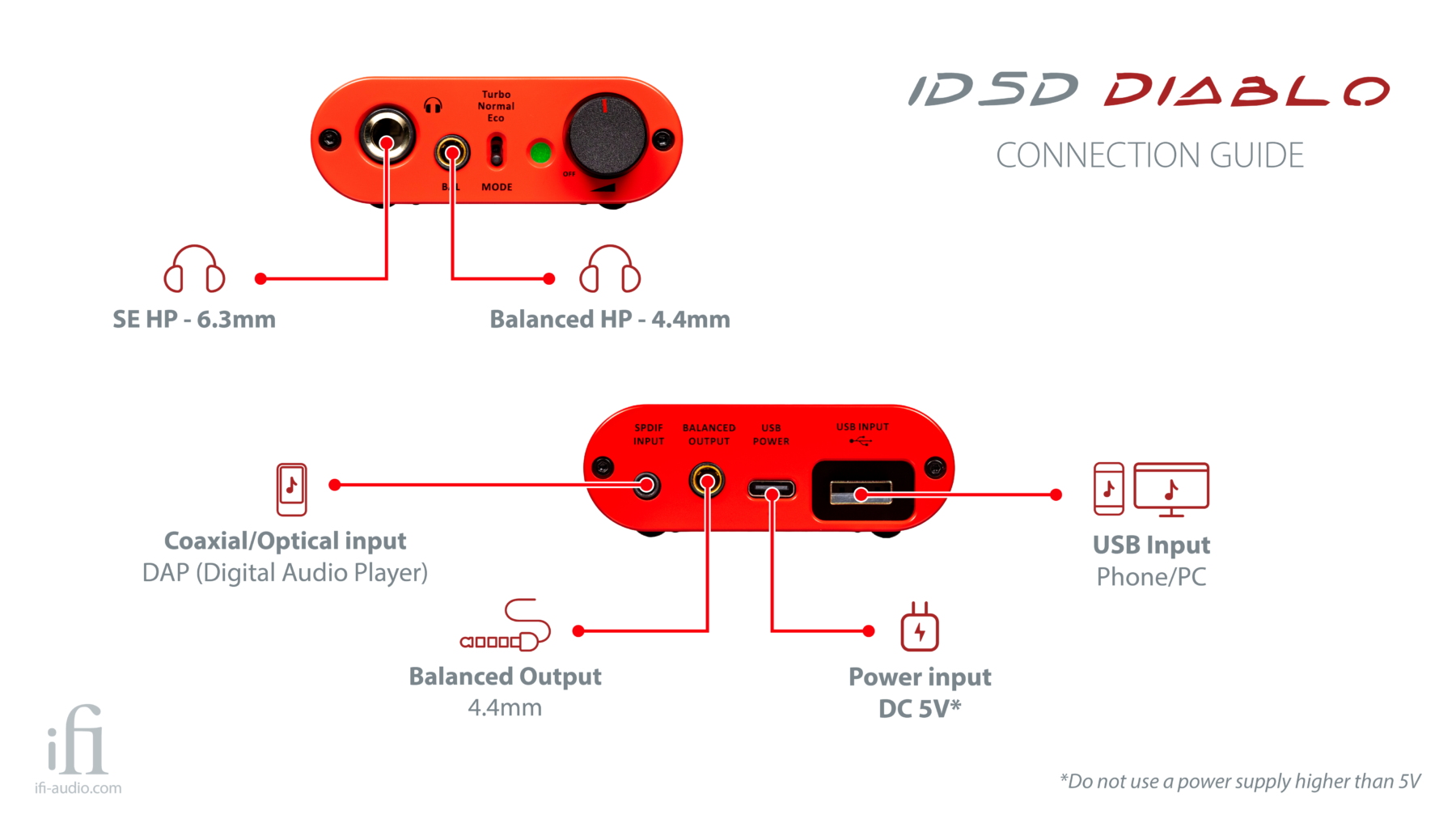 'Bit-perfectly' wicked
iFi use two Burr-Brown DAC chips and the new 16-core XMOS chip to process the data received via the USB and S/PDIF digital inputs.
This means the iDSD Diablo can handle up to PCM 768, DSD 512, 2xDXD. Both PCM and DSD remain 'bit-perfect'.
It also provides full MQA decoding! And with MQA now available over S/PDIF, you can take advantage of any MQA CDs in your collection.
Diabolically dynamic
Able to drive all manner of headphones with ease, the iDSD Diablo delivers up to 5000mW of prodigious power, propulsive energy and engaging dynamics, coupled with a remarkable ability to resolve fine texture and detail.
With 3 settings, you can adjust power and gain to suit your daily driver.
Turbo – ramps up the level of drive for current-hungry headphones
Normal – for most over or on ear headphones
Eco – dials down the power to suit high-sensitivity in-ear monitors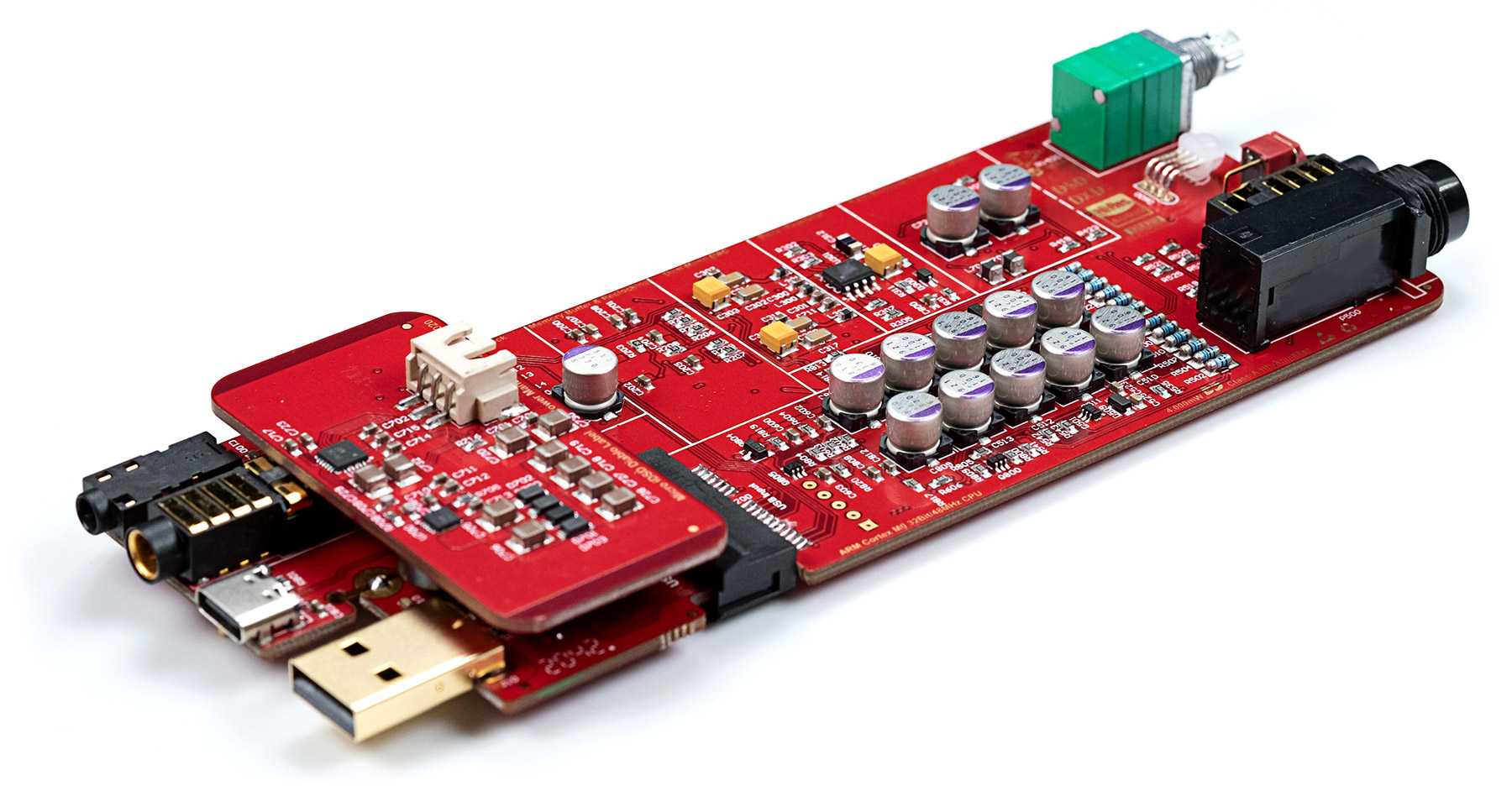 High-bandwidth power supply circuity is dedicated to each critical part of the iDSD Diablo's design, with independent linear regulation delivering excellent PSRR (Power Supply Rejection Ratio) performance.
The headphone amp stage eschews IC regulators in favour of Panasonic OS-CON capacitors, delivering 2320uF between them.
The DAC section benefits from an ultra-low-noise regulator with additional passive filtering, reducing high order harmonic distortion and, in turn, jitter.
Even the USB input stage benefits from dedicated regulation and multi-stage filtering, and the microprocessor control circuitry (often a local source of digital noise) has separate regulation, too.
Accessories galore
As befits a reference-level product, iFi included a whole host of accessories in a luxurious travel case.
As the iDSD Diablo may be powered from the mains, as well as by its built-in battery, they have included our super silent, noise-cancelling iPower 5V AC/DC adapter to ensure optimal sound quality.
Also included is a 4.4mm Pentaconn to twin XLR balanced interconnect cable to connect the iDSD Diablo to an amp and speakers (or a pair of active speakers) with balanced XLR inputs.
They also added a short (15cm) USB-C to USB-A audio cable, as well as an extension cable plus a USB-C charging cable and an adapter to connect headphones with a 3.5mm jack to the 6.3mm single-ended output.
Alla specifikationer hittar du här.